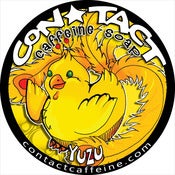 Soap Name: Yuzu
Still In Production: Yes
Sample or Full Bar: Full Bar
Date Tried: April 2012
http://contactcaffeine.bigcartel.com/product/caffeine-soap-yuzu
Dry Scent: yuzu smells like a grapefruit, without the citric acid to burn your nostrils. not much else to say about it. 
Wet Scent:  still smells like grapefruit. if you like grapefruit, this is the soap for you, no doubt. there's also something slightly subtler going on that reminds me of watermelon bubblegum (?????) but it's very infrequent that you can get a wiff of it and it doesn't stick around. again, it's like all the scent of grapefruit without the citric acid burn grapefruit gives your nostrils. 
After Scent:  i couldn't smell anything at all, to be honest. even less noticable than sparkledog. 
After Thoughts:  holy hell this soap is yellow. i mean it's yellow. it's really fucking yellow. if you use a white washcloth, the lather is noticably yellow. i've never really experienced this level of noticable dye in the soaps before, they're always pretty muted pastel toned. but yuzu is yellow yellow yellow. the grapefruit smell is nice, if you like citrus and fruits. it doesn't stick around, which is also nice if you want to secretly hide your love of fruits and citrus. 
as a note, i picked up this yuzu from the "oops!" overstock/mistake line Contact Caffeine offers from time to time. my bar just had a bit too much glitter on it, didn't affect it in any way really.