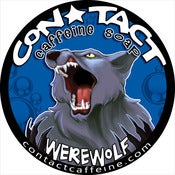 Soap Name:  Werewolf
Still In Productian: Yes
Sample or Full Bar: sample
Date Tried: July 2012
http://contactcaffeine.bigcartel.com/product/caffeine-soap-werewolf
Dry Scent:  ARRRRRRWOOOOO. AGNEW, FETCH ME MY SOAP. the dry scent is almost sage-ish and musky, with a very very slight flowery scent. it's agreeable and enjoyable, masculine without being completely overpowering.
Wet Scent:  the musk kicks in slightly here, but throughout the soap retains its generally mellow but masculine oder. i'd say that rather than smelling really flower it smells almost outdoors-y, like the woods early in the morning.
After Scent:  a very slight flowery scent along with musk that, weirdly enough, reminds me of the detergent they must use on lab coats in my old pediatrician's office (you know what they say, scent is the sense most strongly linked to memory). 
After Thoughts:  i tried werewolf with fear in my heart, because every other soap which has leather accents to it has smelled wretched and filthy to me. CANUS LUPUS BE PRAISED because that's NOT a problem with this soap! you really can't smell the leather at all. it's reasonably masculine, but the smell might be a bit 'showy' for some dudes. personally, i like it. it's a good, clean smell. i'd buy it again.